BLACK RIVER, LORAIN, OHIO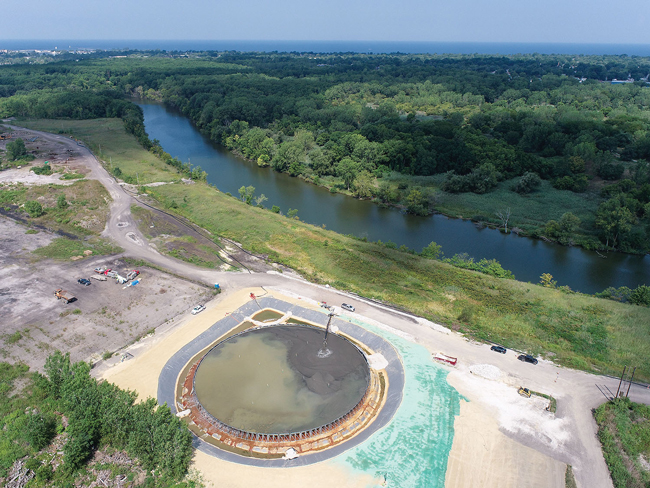 Title: Black River Dredged Material Beneficial Reuse Facility, Lorain, Ohio: Dewatering of hydraulically dredged sediments
State: Ohio
Project type: Other
Greater Beneficial Use Area: Great Lakes
Focus Area approximate center coordinates: 41.4530, -82.1367 (GeoPool)
Nearest Federal Navigation Project: Lorain Harbor
Owner: City of Lorain
Beneficial Use Categories: Soils, Brownfields
Dredge type: Hydraulic
Status: 2019 to present
Keywords: GeoPool, Lorain Harbor, Great Lakes, City of Lorain
Description:
The Ohio State legislature passed a bill to prohibit the open water disposal of dredged sediment after July 2020 and recommended to find alternative beneficial uses of the dredged sediment. With open water disposal no longer an option and confined disposal facilities nearing full capacity, innovative ideas are needed to find ways to beneficially and economically reuse dredged sediment in the region. The US Army Corps of Engineers, Ohio Environmental Protection Agency, and other State, and Local governments have been working closely to create plans, including beneficial use of sediments, to meet the requirements of the new law. One potential solution is to find economical ways to dewater dredged sediment to create marketable soils or soil amendments.
In the quest to beneficially reuse dredged sediment, the City of Lorain received an Ohio Healthy Lake Erie Grant administered by the Ohio Department of Natural Resources and the Ohio Environmental Protection Agency to construct the Black River Dredged Material Beneficial Reuse Facility. The facility is located on city owned property at the Black River Reclamation Site next to an industrial brownfield on the Black River. In 2019, a pilot study to test a new dewatering technology referred to as a GeoPool began. The GeoPool consists of modular frames lined with geofabric that are interlocked to form a rigid circular shape around and earthen bottom. A slurry of dredged sediment is then pumped into the pool where the water filters through the geofabric lined frames while the solid phase is retained inside the pool. The design is modular, reusable, and scalable and thus can be fitted to project needs. For the pilot study, a ~1/2 acre GeoPool was designed to hold 5,000 cubic yards of dredged sediment. In August 2020, sediment hydraulically dredged from a federal turning basin (Lorain Harbor Federal Navigation Project) in the Black River was pumped into the GeoPool and successfully dewatered.
To learn more about how the dewatered sediments can be beneficially used, a residual solids evaluation is currently underway. Evaluation of dewatered solids will help to determine whether additional treatment steps are required before the soil is used. The solids could be used for a number of different purposes including, for example, reclamation of the adjacent brownfield site, mixing with other aggregates for construction, agriculture, and horticulture.
Pilot study partners include City of Lorain, Lorain Port Authority, Coldwater Consultants, LLC, Ohio Environmental Protection Agency, Ohio Department of Natural Resources, and US Army Corps of Engineers.